Tuesday, May 5, 2009
I'm taking a break from my sewing posts to encourage you to volunteer. I choose to volunteer at a Food Bank that is run in partnership with the church that I am a member of. I had always felt the desire to volunteer, but really didn't know how to go about it, what was involved, or even where I should volunteer. For several months before I started volunteering at the food bank I had really felt God calling me to get more involved in HIS work, so when I heard that the man who runs the food bank, Brother Jesse, a fantastic spirit filled man, needed volunteers to help out, I knew that God had been preparing me for this opportunity. There are only five of us who work there and unfortunately we are only able to open once a month. This is absolutely the MOST rewarding day of each month for me. I really think that everyone should find a place to volunteer. I assure you that if you try it once you will choose to make it a part of your life. Volunteering gives me a bigger purpose. I am thankful that the Lord had directed me down this path!
Posted by

Heather
at 7:14 AM
No comments:

Tuesday, April 28, 2009
Pajama bottoms! Yep that's right, six pairs to be exact. For some reason, I decided (with the help of my fantastic stepmama) that all of the girls that are going on our disney trip will need matching pj bottoms. We found a huge bolt of Tinkerbelle fabric on sale at Walmart (have to love 50% off fabric). I am using the Easy Fit pattern for my the small girlies' pj bottoms, and a McCall's pattern for all of the big girls pj bottoms. (I wish Carla C would start making patterns in my size)! We leave for Disney in 24 days and there are about a million things on my sewing table. I'm hoping to finish all of the pajamas this week so that next week I can make my girls some new dresses to wear on Mother's Day. I also really want to make this super cute top on MadeByRae's blog for a concert that my handsome husband and I are attending on Saturday! Can you say busy week for sewing? I also really feel like I need to make the girls a new dress for our breakfast at Cinderella's Castle. Why do I feel like I need to make something new for each event? Well hopefully I'll finish everything on my list and post pictures of everything later this week.
Posted by

Heather
at 9:17 AM
2 comments:

Posted by

Heather
at 6:15 AM
No comments:

Monday, April 27, 2009
Here are a few pictures of some of my creations to get this blog rolling!
This outfit is for a Big Give ( those Disboutiquers I was telling you about make outfits for Make a Wish families that are traveling to Disney World, this is my first contribution)
This dress is my almost 3 year olds Easter dress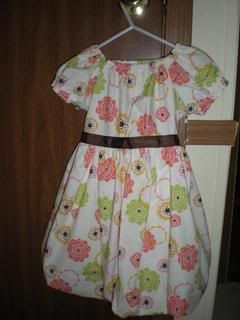 Here is my lovely 9 year old's Easter dress. I love this Robert Kauffman fabric!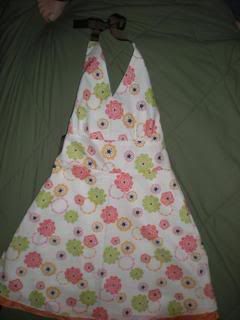 This is K's Little Mermaid dress. It is the Miss Lily pattern ( you can find it on youcanmakethis.com or at The Handmade Dress) I love this pattern!!!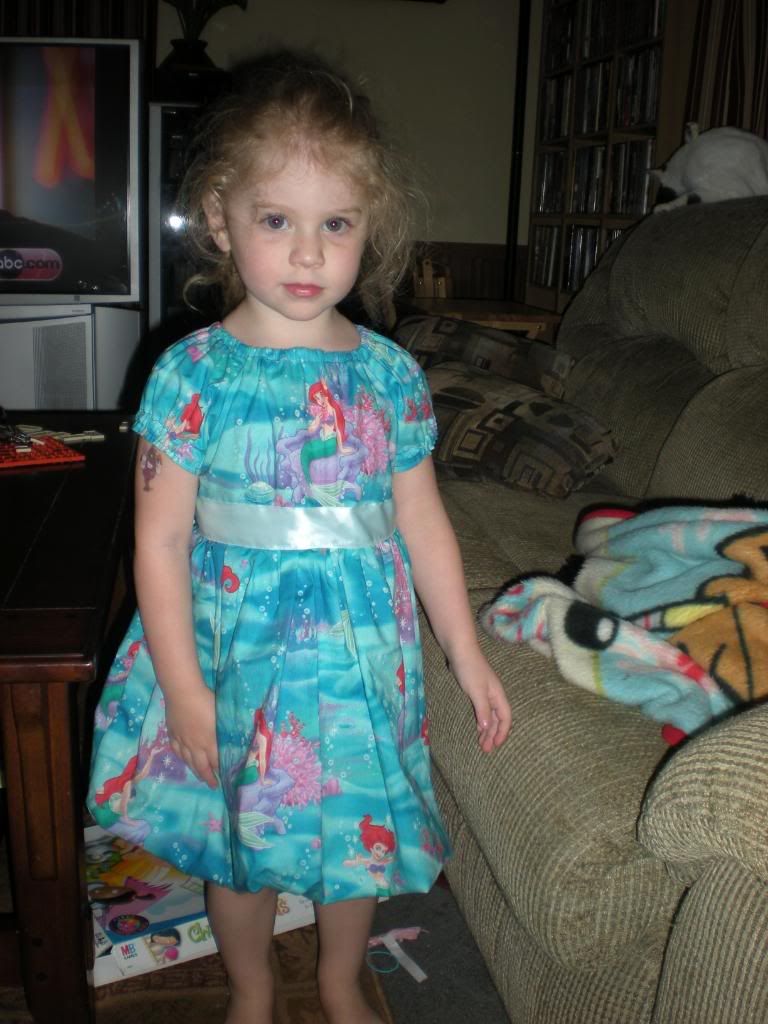 these are the first dresses that I made that wern't pillowcase dresses.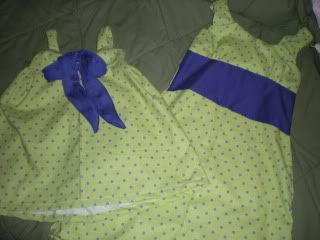 Posted by

Heather
at 11:26 AM
1 comment:

Welcome to my blog. I decided to start writing my own sewing and crafting blog after reading so many wonderful sewing blogs by my lovely Disboutiquer friends. I figured if those lovely ladies and Tom could blog about their fantastic creations surely I could too. I am really a beginner in the world of sewing. My machine is a Euro Pro Shark with about 12 stitches. I also use my mom's Singer serger. (Thanks mom) I started sewing, because I couldn't really find those cute custom clothes in a size large enough for my 9 year old. There are plenty of cute clothes out there for my almost 3 year old, but I am one of those mommas that try to make thier kialddos match. the first thing I ever sewed was pillowcase dresses for my daughters. I really wasn't planning on ever making any other style of dress for them. Pillowcase dresses are easy and patterns seemed way to complicated. Eventually, I branched out and bought a pattern and the rest is history. I've been sewing for about 6 months and loving every minute of it. Well, with the exception of those times when I have to be best friends with my seam ripper. The best part is that my girlies really love everything I make for them, and I feel a real sense of accomplishment when I have created something beautiful. I am slowly building up a stash of fabric and thread in many different colors. My almost 3 year old daughter loves the fabric store almost as much as I do! I see her being the one that I pass on my sewing knowledge (limited as it is) on to. I hope you stick around and follow me on my sewing adventures! Be blessed on this day that the Lord hath made!
Posted by

Heather
at 10:57 AM
No comments: